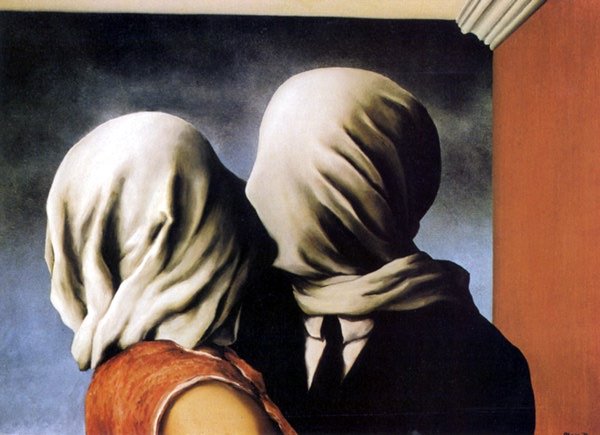 Les tableaux métaphysiques de Giorgio de Chirico ne sont pas immédiatement
« lisibles » et ne s'adressent pas personnellement au spectateur comme le font ceux de Magritte, à mon sens.
Chacun, pour peu qu'il ait un peu de curiosité et d'imagination, est capable d'essayer de comprendre ce qui lui est présenté comme une interrogation.
Ce tableau de 1928, Les Amants, suscite bien sûr le questionnement. Le titre même que lui a donné Magritte est anodin comme pour toutes ses autres peintures, cela fait partie du jeu.
Here is a possible interpretation of the painting (a variant of it as a matter of fact) which does'nt say much in my opinion.
I would have chosen "la honte" ou bien "Le zéro et l'infini", (Darkness at noon, in French for whatever reason).
A Schopenhauerian reading is obvious to me. But Charles Sanders Peirce, the American philosopher, may also be of some help, be it only because he once wrote:
The entire universe is perfused with signs, if it is not composed exclusively of signs.
Will you play the game, be it only in petto ?